Rayhan Eye Hospital-Tirur
Rayhan eye Hospital, Tirur, A Hi tech multi-specialty eye care hospital is another division of Rayhan group of Hospitals and institutions.  Established on November 10th, 2017 in the sand of greatest well renowned poet Thunchaththu Ramanujan Ezhuthachan, the father of Malayalam language literature.  For the last 15 years Rayhan eye hospitals has grown to be one of the best eye care hospitals in the Malabar region by providing lots of happiness to the world. Rayhan Eye hospital, Tirur is well established and equipped with all latest and advanced technologies to disseminate the best and finest eye care treatments to the peoples in the region.
We provide the best and comprehensive eye care treatments at affordable costs to peoples and help them to walk back to the world of happiness. Our mission is to deliver the service with utmost care and compassion from a group of highly trained and experienced doctors' work for captain the world from darkness to light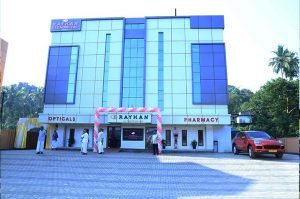 We always strive to provide quality eye care built on the great foundation of ever best ethical medical practice. Rayhan eye Hospital, Tirur provides  Lasik treatments, Cataract surgery, treatments for squint, corneal blindness, glaucoma, diabetic retinopathy, refractive error, etc. Best and high class treatments with well experienced doctors are offered at Rayhan eye care hospital and LASIK centre with a great vision of being a part of world class eye hospital by imparting qualitative eye care all over the globe..
Address:
City Junction,
Fire Station Road, Tirur