Rayhan Eye Hospital -Edappal
Rayhan Eye Hospital is the first Eye Hospital in Edappal, Malappuram, Kerala. Inaugurated on 1st May 2003, the hospital is equipped with all latest and advanced Equipment making it one of the finest Eye care centres in the region. Rayhan Eye hospital was established by Mr. P.V. Abdul Kader, the Managing Director of Rayhan Eye Hospital, and the hospital has emerged as one of the best eye care centres in the Malabar region due to the vision and tremendous efforts put in by Mr. PV Abdul Khader, whose services are available at all times in the hospital.
Dr. T.K. Salahudheen MS., the Chief Ophthalmologist at Rayhan Eye Hospital, has many years of experience working in famous Eye Institutes in India and abroad. He is trained in the latest micro surgeries and under his guidance his team of Doctors and staff are moving towards excellence in Eye care with dedication.
Our main focus is the treatment and care of NHS patients with a wide range of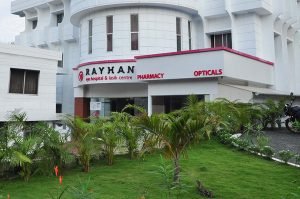 eye problems, from common complaints to rare conditions, which require treatments not available anywhere else In the past 9 years of service patients numbering around 73,000 have been treated successfully at the institute and more than 35000 Intra Ocular Lens Implantation surgeries and 4000 Occuloplastic surgeries have been conducted and this continues.
The Rayhan College of Optometry and the Rayhan Institute Of Optical Fitting & Dispensing, both affiliated to the Bharathiar University, Coimbatore are run under the auspices of the PV Abdul Khader Charitable Trust to create a learning environment for developing quality professionals in Optometry and allied sciences.
VISION
To get into the list of world class eye hospital by imparting qualitative eye care
MISSION
Deliver the service with utmost care and compassion from a group of highly trained and experienced doctors work for captain the world from darkness to light
To continually deliver quality health care built on a foundation of ethical medical practice
VALUE
Motivation
Transparency
Prioritization of patient care
.
Address:
Kuttippuram Road
Edappal, Kerala 679576