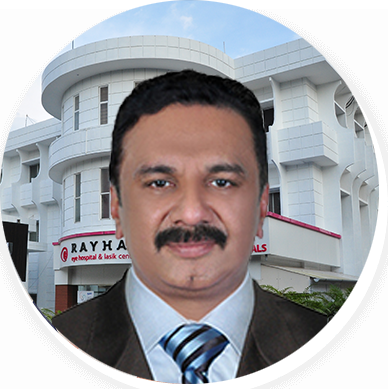 Meet
Dr. T.K. Salahudheen MS
Specialisation: Micro-Incision Surgery, Occuloplasty Surgery
Dr. T K Salahudheen is the Chief Ophthalmologist at Rayhan Eye Hospital which holds the distinction of being the first Eye Hospital in Edappal, Malappuram, Kerala. Dr. Salahudheen holds several years of experience in the ophthalmic field through his service in prestigious eye institutes in India and abroad. He specializes in Micro-incision and Oculoplastic surgery which focuses on less invasive cataract surgeries and cosmetic procedures around the eye respectively MS qualified Dr. Salahudheen holds a Fellowship in Intraocular Microsurgery (FIMS). Trained in the latest micro surgeries, Dr. Salahudheen has a dedicated team of doctors and staff at Rayhan Eye Hospital. Under his wings, the hospital strives to achieve great heights in professional excellence and qualitative eye care.
About
Rayhan Eye Hospital

Our vision
To get into the list of world class eye hospital by imparting qualitative eye care.
Our mission
Deliver the service with utmost care and compassion from a group of highly trained and experienced doctors work for captain the world from darkness to light.
What Our
Students Say
I would like to express my sincere thanks to Rayhan college of optometry for being part of the wonderful college in my life. Now I am working with Oman Opticals
Faizal Babu P- BSc Optometry
Oman Opticals
Happy to inform that I am now working at Sabitha Eye Care Hospital. Really proud to say that I am graduated from Rayhan college of Optometry.
Jismol C Jose- B.Sc Optometry
Sabitha Eye Care Hospital
I'm very proud to be an optometrist .because, talented optometrist with a strong commitment to service in the optometry field.professional with more than 1&1/2 years of experience assisting patients with vision care.passion for helping others solve vision problems and improve their quality of life with the right type of vision correction
Farisha Najma CP- B.Sc Optometry
Working at Valanchery
I am Nazir Salah, Now working at IOA after completing my BSc. Optometry from Rayhan College; I would like to express my sincere thanks to Rayhan groups of Institutions and Faculties for molding my career and a bright future.
Nazir Salah- BSc. Optometry
IOA
I'm an Optometrist working in UAE, after completing my graduation from Rayhan college of optometry. Rayhan eye hospital is the best eye care centre in Edappal with advanced facilities gave me a lot of learning experience as well during my internship period which helped in my career growth.
Najeeba- BSc. Optometry
Gulf Optics UAE
I am Shibila Nargees, a former student of Rayhan College of Optometry. I feel very proud to express my happiness that I am successfully doing my internship at Malabar Eye Hospital.  I would like to thank my professors and my family who helped me to achieve this success in my career.
Shibila Nargees – BSc. OPtometry
Internship at Malabar Eye Hospital
It gives me great pleasure to say with pride that I have completed my post-graduation from Rayhan College of optometry Edappal. The relationship between faculties and student is very cordial, which gave me an opportunity to excel in my area of interest. Now working as an Academic coordinator at Al Rayhan Kondotty.

Manu Krishna S – MSc. Optometry
Al Rayhan Kondotty
I Rasala, feel proud to announce that I being placed in Little Flower Hospital and research centre. I take this opportunity to thank my college Rayhan college of Optometry, my professors who helped me to grab this opportunity. I would like to thank Anwer Shakeeb sir for his support in entire process of placement.
Rasala Ismail- BSc. Optometry
Little Flower Hospital and Research Centre